Goodwood House Oregon
Dachshund Miscellanea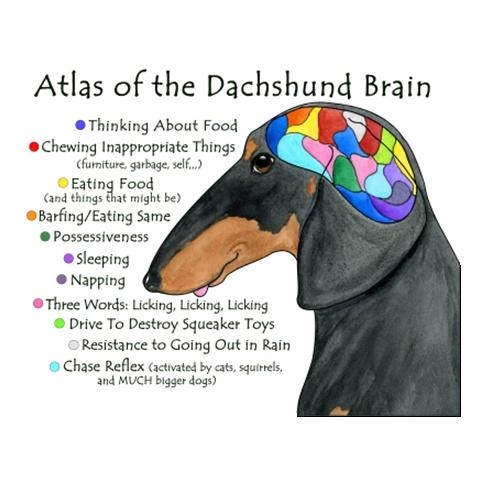 So True!!!
(From the genius mind of Terry Pond)
Back when I bred American dachshunds......

5 generations in a row!
L to R: Charlene Owens with Ch Lil Passion's Destiny V Joy-Den
Dave Niebur with DC Niebur's Moon Shadow ROMX
Claire Mancha with DC Niebur's June Honeymoon ME SHH CGC VC
Reis Wilbanks with DC Goodwood's Milo
Kathy Lockyer with (now) champions Lockshire Tara's Miss Scarlett SS and Lockshire Tara's Master Rhett SS
My specialists! I love my team!
Dr. Paul Fahlman - my go to vet
Dr. Cheryl Lopate - theriogenologist
Dr. Randi Brannan - veterinary dentist (Yes! Read this about your pet's teeth!)
Dr. Terese DeManuelle - veterinary dermatologist
Dr. Dennis O'Brien - chiropractor
Pat Hastings - puppy evaluator
Your pet needs dental care (thank you Emily)
Links to working (hunting) dachshund kennels and articles about hunting with your dachshund.
One of my biggest heroes! A falconer and a dachshund woman.
Read an article about her here.
Thinking of buying a puppy?
How to tell if a breeder is worthy of your patronage....
Worried about dog food recalls?
Why a muzzle is a GOOD thing!
Every dog should be muzzle trained.
A good animal defense group...
The National Animal Interest Alliance
The most amazing custom dog gear

My first European dachshund
Genny Qua-Linea Genlis, JA
My first real brood bitch:
Pixie Champion Sausage Stables Cedar SS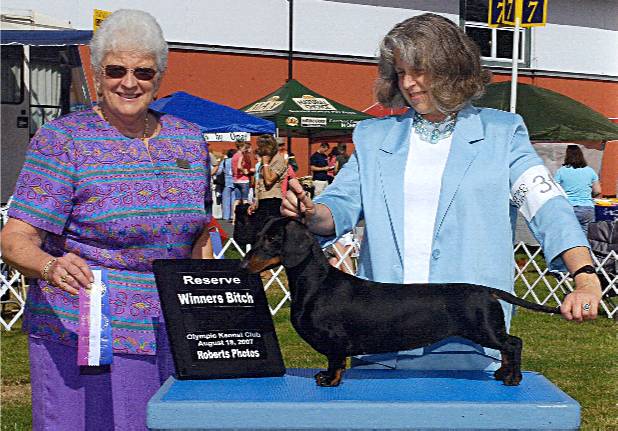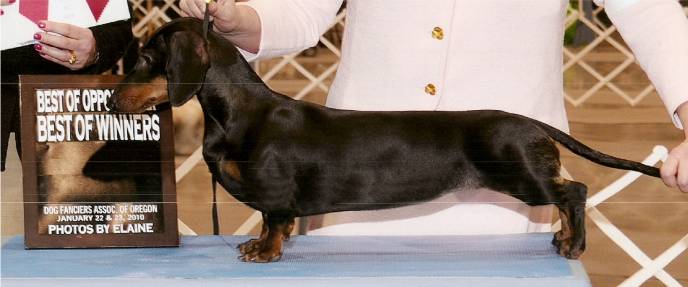 My 1/2 and 1/2 dogs (1/2 American 1/2 European)
Dogs at the bridge:
Bridey Dual Champion Niebur's June Honeymoon ME, SHH, CGC (VC)
Scout Dual Champion Goodwood's Scout's Honor AOM Eukanuba 2007
Kadenz Dual Champion Riverview's V SS Kadenz SS, SE (ME1), HH, CGC (VC)
Fun stuff....
Earthdog related:
Pictures of Earthdog dig day at Turner OR
Pictures of the Earthdog tests Spring 2006

Some of my favorite sites....
Sculptor and jewelry maker Joy Beckner
A GREAT site on structure and movement of a Dachshund
How much to feed your dog, a raw diet calculator
Suzanne Clothier: Learn from this woman!!!
Celadon Financial, this is a great home page!

Yours truly and Bridey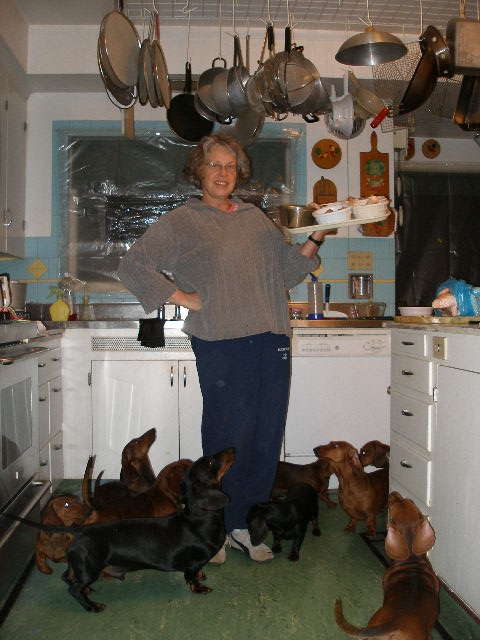 Dinner time!! Oh boy!!!
Are you looking for a dachshund? I can help!
Contact me at
claire@goodwood-oregon.com