dard Dachshunds, Standard Smooth Puppies for sale Dachshund Puppies Available Now Standard Dachshund Puppies
Goodwood House Oregon
European Standard Smooth Dachshunds
I breed dachshunds which are conformed to European standards.
I much prefer this version of this breed which was developed
by hunters in Germany during the 1930s.
I have travelled to 6 countries (so far) to find my current dogs: France, Belgium, Germany, Ukraine,
Finland and Russia. These dogs are all from outstanding breeders who are well respected in their circles.
I am indebted to these breeders and my other superb mentors.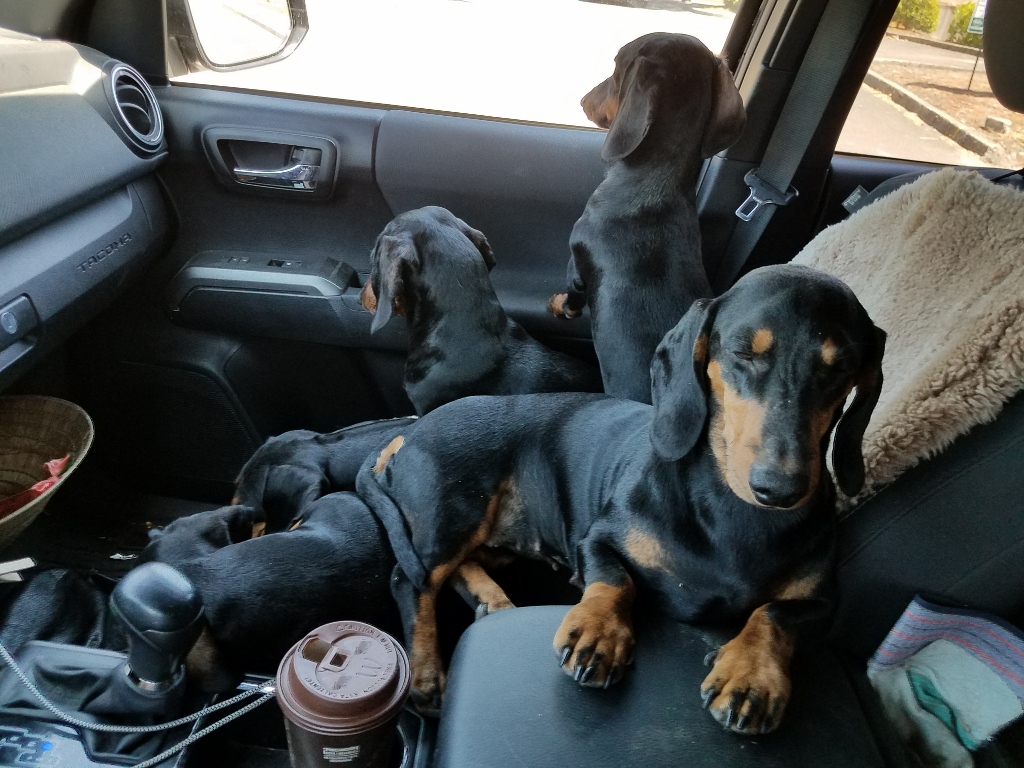 Clockwise starting at 4:
Sharpie, Dolly, Vika, Gilly and Bella at the window.
Breeding Stock:
My girls:
Sharpie "FC Keski-Maan Ivy ME" (Finnish import)
Vika "FC Victoria XXIV" (field pointed) Russian import OFA clear
Dolly "Okhotnichiy Gladiator Vasilisa" (field pointed) Russian import OFA clear
Bella "FC Active Life Bella SE" Russian Import OFA clear

Males I co-own or have bred and used:
Zbigniew "Best I Ya Khadar" (Russia) (field pointed) OFA clear
Ivan "Ivan Tasiemkowa-Mafia" (Belgium) (FC, ME, Bench pointed)
Ruble "Vunderkind" (Russia) (FC, JE, boar / fox)

Sigmund "C Der Gut Rot Baron von Goodwood" (FC)
Zeus "FC Goodwood the Gods Must Be Crazy Good" (FC)
Males whose sperm is frozen:
Spot "Goodwood's Oh My Goodness" (FC, JE, CA. 1 leg SE, )
Francis "Goodwood's Good Friar" (Bred by me USA)
Retired from breeding:
Penny "Goodwood's Good Miss Moneypenny" (FC)
Fifa "Goodwood Fifa's Good Journey" (FC)
Bitte "Bitte von der Starkenburg" (Germany) VJT registered
Gilly "Easy de la Chapellerie" (France) (FC, SE. CGC)(Many European titles)
Jadzia "Jadzia Tasiemkowa-Mafia" (Belgium) (FC)

Franka "Franka von Schlendrian" (Germany) (FC)(Bench pointed)
Cleo "Goodwood Good 2 B Queen" (Bred by me USA) (FC)(Bench pointed)

Tristan "Goodwood Good Miss Tristan Gives a Huti" (Bred by me USA) (UKC Ch)